Hello!

I'm Iordanis or IQ, a passionate photographer who believes in capturing the beauty of the world through the lens of a camera. With over 10+ years of experience in Art / Digital Art and 7 years in photography, I have developed a keen eye for detail and a deep appreciation for Art and Photography.

(IQ was inspired from my first and last name, "I" stands for the first letter of my first name and "Q" stands phonetically for the four letters at the beginning of my last name.)

My journey as a Photographer began when I bought my first camera from a friend in 2016 and from that moment, I was hooked. I quickly realized that photography allowed me to freeze fleeting moments in time, creating visual stories that evoke emotions and capture the essence of a subject.

I specialize in Landscape, Sport, Lifestyle and Product photography more for social media. But I have worked in different fields as a Portrait and Fashion Photographer.

What sets me apart as a photographer is my ability to establish a genuine connection with my subjects. Whether it's capturing the raw emotions of an athlete, the colors of a sunset, or the intricate details of nature. I strive to create images that evoke a sense of authenticity and bring out the true essence of the moment. Also my strong knowledge of Editing and Retouching, can make a picture more powerful.

Over the years, my work has been featured in magazines, books and online platforms. I have also had the privilege of working with diverse clients, including individuals, groups, businesses, and publications. Collaborating with each client is a collaborative process, where I listen to their vision and bring it to life through my photography.

When I'm not behind the camera, you can find me immersing myself in the world of photography and retouching by attending workshops, traveling and exploring new locations, and constantly experimenting with new techniques and equipment. I believe that learning is a lifelong journey, and I strive to continuously push the boundaries of my creativity.

If you're looking for a Photographer / Retoucher who is dedicated to capturing beautiful moments, I would be thrilled to be a part of your project. Feel free to contact me!
Briefly, introduction of my self, my name is Iordanis Kioumourtzoglou, I grew up in Thessaloniki, Greece, and I moved to LA in 2009, when I
was 26 years old to work as a 3D Artist. In this page, I would like to share with you my Vanlife adventure, and how you can build and take
ideas for your van. I can design your van in 3D, so you can have an idea how it looks before you build it.
If you don't have the time, I can also build it for you! Feel free to contact me.
Here is how my adventure started. From a young age, I always dreamed to have a van for my sport activities, fit my camping and sport
equipment, be able to road trip anytime and sleep anywhere without thinking to look for a hotel. I remember, in 2003 in Greece, my best
friend and I, were thinking to buy a 50's VW Bus someone was selling in the neighborhood, never happened.

My first car was a Hyundai Matrix, a nice family minivan.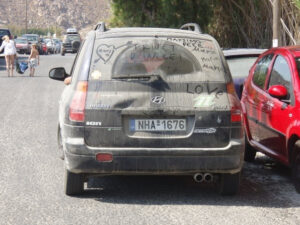 I really enjoyed it for almost 3 years, driving it all around Greece, from mountains to the seas, skiing and kitesurfing. In September 2009 I moved to LA. Outdoor culture and vanlife here is huge and you see vans everywhere, a fact that made me desire one more.
For the last 4 years I was checking online to find a Toyota Van LE. A beautiful, non common 80's van, you don't see very often on the roads, 
maybe at that time the competitive van for VW Bus. Also Toyota has a strong engine, cheap maintenance, good gas miles, and a reliable name.
Finally, in Sep. 2018, my dream became real and I bought one. I named it Flipper The Van.
Why I named my van Flipper: "Flipper" was my tag name in high school. When I bought the van there were lots of mechanical problems. One of them was the "Center Arm". The part doesn't exist in the market anymore and I had to rebuilt it. Which meant mailing the old part to @rarepartsinc for remanufacturing. At that time I thought the cheapest and the easiest thing to do was to find an old part from another van in a junk yard. And I found that guy with a sticker saying "Flipper" (pic above), I took the part, rebuilt it and replaced it in my Van.. From that moment a new Flipper was born.. Thank you!!
I sold Flipper the Van after having it for 4 years to a movie company. And the van participated it in the Welcome to Chippendales in Hulu and in a big Toyota's commercial, link
here:
In 2022, I was in Greece for few months and  someone was selling this cool 1991 4×4 Subaru Sumo. I couldn't say no.. Super fun van!!